NEWS
VIDEO: Paris Hilton Makes the Most Out of Her Home Invasion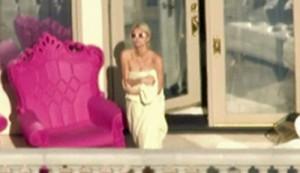 Paris Hilton sure knows how to make the most out of any moment in the spotlight — even if that moment involves a home invasion/armed robbery crime scene investigation. The heiress just happened to be walking out on her balcony in a towel as news choppers circled her Hollywood Hills compound following the arrest of a man on her property.
Paris emerged from her home, wrapped in a towel, as captured by a KTLA news report, following the arrest of a knife-wielding man on her property early today.
Article continues below advertisement
Looks like not much has changed when it comes to Paris' reputation.
The heiress sent out a Tweet about the frightening incident at around 7:19 a.m. PT announcing to her fans just how scared she was by the intruder!
OK! NEWS: PARIS HILTON WAKES UP TO A 'GUY HOLDING 2 BIG KNIVES'
"So Scary, just got woken up to a guy trying to break into my house holding 2 big knifes. Cops are here arresting him," she Tweeted.
Paris' rep released a statement, via TMZ, stating, "Paris is naturally shaken by the events, but is unharmed and well. She is very thankful to her security team and the police for their swift and diligent response."
According to TMZ, Law enforcement sources say the suspect's mother had reported him missing from a suburb east of L.A.
Yesterday, a pre home invasion Paris was out with her entourage, including her little BFF, pooch Mugsy, loading up on the latest fall fashions at Fred Segal in Beverly Hills.