NEWS
VIDEO: Paula Deen Hit in the Face by a Flying Ham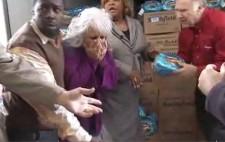 Ouch! Paula Deen got hit in the face by a ham while she was handing out food at Hosea Feed The Hungary, cbsatlanta.com reports.
"Oh, I didn't know it was being thrown," Paula said after being smacked with the flying food. Hope her nose is alright!
Watch the clip at cbsatlanta.com!
Article continues below advertisement