NEWS
VIDEO: Peter Facinelli Wishes He Could Be Shirtless Too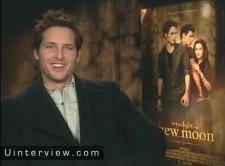 Peter Facinelli made many Twi-hards' day recently, answering questions direct from the mouths of fans for UInterview. Peter doesn't shy away from sharing what he really thinks of Twilight co-star Taylor Lautner's new body and how he wants to go shirtless too!
"For Taylor, he's gotta look rock solid," Peter explains to UInterview users when asked about Taylor's hot body. "We did talk about his workout regime at dinners some times. He's at a different place because he's 16. His metabolism burns so quickly. He's gotta eat every hour and a half. That's a good problem to have!"
Article continues below advertisement
A problem that Peter doesn't have, but wouldn't keep him from going shirtless — if they let him!
"They never let my character Carlisle take his shirt off – I wish he got to take his shirt off too!" he exclaimed. "Just because he's 350 years old doesn't mean he can't take his shirt off."