NEWS
VIDEO: Rihanna Sends Well Wishes to Chris Brown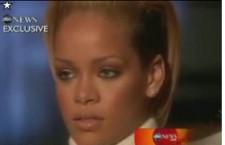 In an exclusive heart-to-heart interview with Good Morning America's Diane Sawyer, Rihanna opens up for the first time on what happened between her and Chris Brown on that horrible February evening. She speaks without hate, and wishes the best for her former boyfriend. Despite his abuse, RiRi still loves Chris. "I don't hate him at all," she tells Diane.
"I actually love and care about him and I'm concerned about him doing well. I want him to do well, have a great career, have a great life and grow up, and just take this as something that you had to go through to grow up and learn."
Article continues below advertisement
Rihanna may send her well wishes to Chris, but she has yet to address a possible rekindling of their romance. Those topics may be covered in tonight's s 20/20 special.

Rihanna did delve into some of what unfolded the night of the abuse. The couple was returning from a pre-Grammys party when Rihanna found a text message on Chris's phone from another woman.
"I caught him at a light and he wouldn't tell the truth," she recalls. "I wouldn't drop it. I couldn't take that he kept lying to me and he couldn't take that I wouldn't drop it, because, obviously, his back was up against the wall. The truth is right here in the text message. So it escalated into him being violent towards me and it was ugly."
She said Chris "had no soul in his eyes."
"There was no person when I looked at him," Rihanna said.
More details of what happened in the car, as well as an event from Rihanna's childhood she's never shared, are on the schedule for tonight's longer 20/20 interview.