NEWS
VIDEO: Rihanna's "Russian Roulette" Preview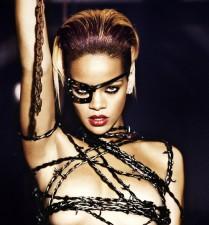 A sneak peek of Rihanna's new music video for her latest single "Russian Roulette" was released today. The entire video will premiere tomorrow on 20/20. The song is a gloomy ballad about a dangerous love affair and is a featured track on RiRi's latest album Rated R, out on Nov. 23. The album shows a new, darker side of the singer. She told reporters that inspiration for her new album was "personal experiences, mixed with rock and hip-hop."
Article continues below advertisement
"It was very vulnerable for me," she said. "I'm usually a very guarded person so having to go in and reach for emotions and personal things to say it was very vulnerable."