NEWS
VIDEO: Robert Pattinson's Haircut a Medical Necessity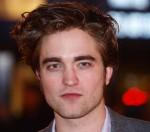 Robert Pattinson, currently sporting a severe-looking crew cut, has explained why he chopped off his famous locks.
"I got a terrible infestation of nits and I had to shave it all off," R-Pattz joked to Ellen DeGeneres on Wednesday's episode of her talk show.
OK! NEWS: R-PATTZ MAKES IT INTO THE URBAN DICTIONARY
Although he went on to reveal the true reason for the cut: He trimmed three days ago for his role in Water for Elephants with Reese Witherspoon.
Article continues below advertisement
Meanwhile, the shy Brit opened up about his fear of talking in public."I just like doing things where you have a little time to think about what you're saying," he said.
OK! EXCLUSIVE: REESE WITHERSPOON IS READY FOR A RING
"I've always had a problem actually thinking before I open my mouth. Yeah, being spontaneous or just thinking. I have a problem with thinking."