NEWS
VIDEO: Scheana Marie Talks About John Mayer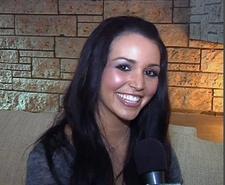 In recent weeks, speculation has grown that John Mayer has moved on from his relationship with Jennifer Aniston by taking up with actress Scheana Marie. And while the rock star has remained quiet on the topic, Scheana spends several minutes talking at length about their unique "friendship" in a new video interview with YoungHollywood.com.
SCROLL DOWN FOR VIDEO
In the interview, Scheana explains that she actually first met John about a year ago while working at an event he attended with then-girlfriend Jen.
Article continues below advertisement
"She told me how pretty I was," Scheana recalls in the video. "She was sooo sweet... We all had some drinks together."
And then it was only a few weeks ago, after the latest split from Aniston, that John and Scheana rekindled their friendship. "We were both going through a breakup at the same time," she says. "No one's cheating on anyone."
So if there's no cheating, does that mean that they're a couple?
"He's not my boyfriend," says Scheana in a not-quite-convincing tone. "We're hangin' out.... You can leave it to your imagination."
And though she denies any romance, Scheana is extremely open about the things she loves about John. "I love his personality... he's funny... He can be like a dork," she says. "He's very considerate of other people."
Scheana also reveals that she and John often text each other and that these little messages brighten up her day... But they're not dating.
Sure.
Check out the video to judge for yourself:
<object id="flashObj" width="400" height="339" classid="clsid:D27CDB6E-AE6D-11cf-96B8-444553540000" codebase="http://download.macromedia.com/pub/shockwave/cabs/flash/swflash.cab#version=9,0,47,0"><param name="movie" value="http://c.brightcove.com/services/viewer/federated_f9/8445905001?isVid=21587995001&publisherID=44143148" /><param name="bgcolor" value="#FFFFFF" /><param name="flashVars" value="videoId=21587995001&linkBaseURL=http://www.younghollywood.com/video/lifestyle/yh-exclusive-john-mayers-new-friend.html&playerID=8445905001&domain=embed&" /><param name="base" value="http://admin.brightcove.com" /><param name="seamlesstabbing" value="false" /><param name="allowFullScreen" value="true" /><param name="swLiveConnect" value="true" /><param name="allowScriptAccess" value="always" /><embed src="http://c.brightcove.com/services/viewer/federated_f9/8445905001?isVid=1&publisherID=44143148" bgcolor="#FFFFFF" flashVars="videoId=21587995001&linkBaseURL=http://www.younghollywood.com/video/lifestyle/yh-exclusive-john-mayers-new-friend.html&playerID=8445905001&domain=embed&" base="http://admin.brightcove.com" name="flashObj" width="400" height="339" seamlesstabbing="false" type="application/x-shockwave-flash" allowFullScreen="true" swLiveConnect="true" allowScriptAccess="always" pluginspage="http://www.macromedia.com/shockwave/download/index.cgi?P1_Prod_Version=ShockwaveFlash"></embed></object>