NEWS
VIDEO: Sneak Peek at Megan Fox & Mickey Rourke in 'Passion Play'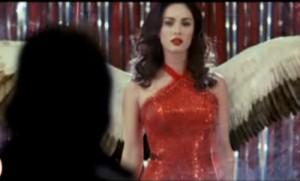 Megan Fox is no stranger to playing a sizzling siren on the silver screen, but in her latest flick, Passion Play there is a catch — she plays a bombshell with wings! Megan stars opposite Mickey Rourke in the film which recently debuted at the Toronto Film festival.
The newly married actress plays an angel of sorts named Lily who is enslaved and displayed as a "circus freak" by a ruthless gangster.
Article continues below advertisement
Mickey plays Nate, a trumpet player down on his luck. He becomes determined to save the rare creature, and a twisted love story ensues.
While promoting Passion Play, Megan also opened up to MTV News about how it will be weird to see Transformers 3 on the big screen.
"It might be a little jealous when I see somebody kissing my Shia LaBeouf, wearing my jeans that I ... already had been fit for," Megan said.. "It's kind of weird, actually."