NEWS
VIDEO: Sneak Peek of Sunday's 'Mad Men' Episode!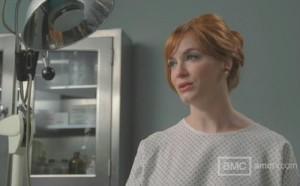 If you are mad for Mad Men like we are, you can't wait to get your weekly dose of the Drapers and the rest of the gang. To make the wait a little bit easier, here is a clip from the upcoming third episode of season four, airing this Sunday, Aug. 8!
Fancast.com features this exclusive sneak peek of episode three, entitled, "The Good News."
The episode description reads: "Don Takes a trip. Joan has scheduling problems. Don and Lane get to know each other a little better."
Article continues below advertisement
In the following clip Joan, played by the beautiful Christina Hendricks, talks to her OBGYN about her pregnancy plans, but worries past "procedures" might make it difficult for her to conceive.