NEWS
Video: Steve Martin Takes 'Pink Panther 2' Premiere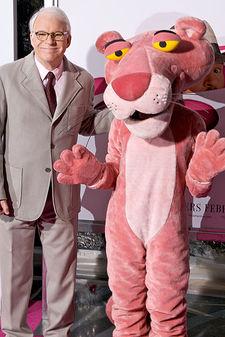 Steve Martin rolls down the pink carpet in a zany red car during The Pink Panther 2 premiere held Tuesday at NYC's Ziegfeld Theatre.
"I love New York, especially when it's f****** freezing," his Chloe-clad costar Emily Mortimer says of the 34-degree deep freeze. (Chunks of snow keep falling off the tent in which arrivals take place.)
As a life-size plush Pink Panther makes the rounds and guests including Stephen Baldwin enjoy pink cotton candy, Steve, 63, stays on message speaking only about the sequel to the 2006 flick about bumbling French Inspector Jacques Clouseau.
Article continues below advertisement
See OK!'s exclusive video – straight from the pink carpet!
What detective skills did he learn on this film?
"Clouseau is not the best detective in the world, but he does have a certain kind of confidence that gets the job done," he says. "Sometimes confidence is the thing that gets the job done."
Hosting Saturday Night Live over the weekend was a delight.
"It's always fun," Steve says. "It's always a lot of work, and it's very scary, but it's fun."
Is it true he only appears on the variety show when he has a movie to promote?
"That's a joke," he says. "I think I have done it only when I've done movies, but that's when you do it I guess."
What was it like working with Aishwarya Rai Bachchan, who is Bollywood's answer to Angelina Jolie?
"It was delightful," Steve says. "Not only was she extremely talented and professional, but she was also a very kind and nice, warm person who brought a lot of spirit to the set. I really liked her."
Article continues below advertisement
And, what does Aishwarya, 35, make of the comparisons to Angelina?
"Oh my, who does that?" she chuckles modestly. "Here?"
The Indian stunner who was voted the most beautiful woman in the world in 2005 gives her praise to Mr. Martin.
"Steve is Steve," she says. "I mean, he's fantastic, and it was an inspiration working with him – to just see how he's giving so much of himself to make the days that are long easier. He was there giving it all – comedy is no easy business, trust me, and there he was doing it. It was wonderful. It's a learning curve."
Aishwarya signs autographs for a group of fans who are assembled in the cold.
What brings Emily back to this silly character?
"It's really fun to do things that are different," the 37-year-old mom of one who is married to Alessandro Nivola says. "I try to do things to stop myself from getting bored of myself or other people from getting bored of seeing me."
The Pink Panther 2 is in theaters Friday.
*Special thanks to OK! cameragirl Jac'leen Smith and OK! uber-producer Chris Morran.