NEWS
VIDEO: Taylor Swift's SNL Promo Spoof on Kanye West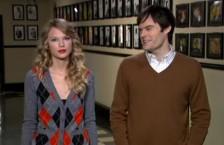 If there was any doubt that the cast would spoof on Taylor Swift's VMA run-in with Kanye West during her hosting and performing gig this weekend, there isn't anymore — it's already happened!
Taylor's promo for SNL on NBC.com makes fun of the VMA incident with help from SNL cast member Bill Hader. In one spoof Taylor announces she will be the host of SNL this weekend while Bill is talking on his phone next to her. Bill hangs up and says, "Whoops, Kanye West just called. He thinks Beyoncé should host instead."
Article continues below advertisement
Watch the promo for yourself!