NEWS
VIDEO: 'Teen Mom' Amber Apologizes For Abuse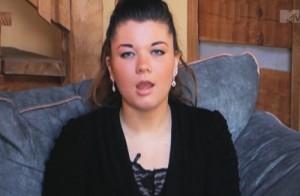 Teen Mom's Amber Portwood delivered a video apology for her recent verbal abuse and physical attack of her on again/off again fiancé Gary Shirley. "I'm very, very apologetic and sorry about it," an emotional Amber begins as she addresses her actions and what steps she has taken toward recovery.
"When I watch the fight it's really painful. I don't ever want to do that to Gary again," Amber explains. "And I haven't since thank god. It's been a couple of months and we're doing good now at least, and Leah is amazing. She wasn't present for it."
Article continues below advertisement
And while Leah may not have been present when Amber punched Gary, the toddler is often present for the couple's verbal spats and in an earlier episode this season, Leah was at her parents' feet as Amber yelled in Gary's face and slapped him around.
The Department of Child Protective Services in Indiana is even looking into the incident after the violence on the MTV reality show.
"I don't know why I did it... I don't know what it was that really triggered the hitting in my head. I think at the time it was the only I knew how to get anger and stress out instead of holding it inside, because God knows I can't hold it inside any longer."
"Now I have gotten help to the point where I do know how to deal with it instead of holding it inside or releasing it in a physical or verbal manner," Amber continues. "I'm not saying I'm 100 percent cured or 100 percent better at it, I'm just saying that its never escalated to that point again. I'm doing my own therapy. Me and Gary together are doing couple's counseling and I'm also going to a psychiatrist. So I'm just getting a little bit of extra help."
Article continues below advertisement
Amber was sure to reiterate the fact that "it's not any different for a man to hit a woman than for a girl to hit a man. I feel like we're all equal. "
As we saw in last night's episode, Gary certainly wasn't holding any grudges against Amber for her physical abuse. In fact, it was quite the opposite as he was the one apologizing with flowers and cards!