NEWS
VIDEO: 'Teen Mom' Maci Stuck in the Middle of Kyle & Ryan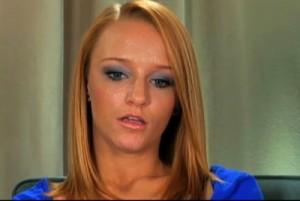 Maci Bookout needs to do what's best for her 2-year-old son, Bentley. The mature Teen Mom finds herself continually torn between her boy's father Ryan Edwards and current boyfriend Kyle King. In a recent interview with Dr. Drew Pinsky, Maci opens up about the constant battle she endures with the men in her life.
OK! COVER STORY: TEEN MOM — RYAN BREAKS MACI'S HEART
"I'm kinda torn, because I have to sorta choose a side," Maci reveals to MTV News. "Ryan hasn't been very supportive of Kyle and I, but I see the reason why he would want to meet Kyle as Bentley's father. I also see Kyle's side in the fact that Ryan doesn't really give Kyle a reason to want to meet him. Kyle has really no respect for Ryan."
Article continues below advertisement
"Obviously I have to choose Kyle's side, but I have to mediate the situation because for Bentley's sake they need to meet each other and get along," she admits.
But Maci does give Ryan some credit.
"Ryan has matured in some aspects of his life and our life together as parents obviously," Maci says. "I know Ryan plays with Bentley... but as far as, like, Bentley getting a bath and getting someone to brush his teeth and any diaper change, I know that's Ryan's Mom.
FOR MORE ON MACI, RYAN AND TEEN MOM, PICK UP THE NEW ISSUE OF OK! — ON SALE EVERYWHERE THURSDAY!