NEWS
VIDEO: Tom Hanks on Sandra Bullock — "She is a Magnificent Actress"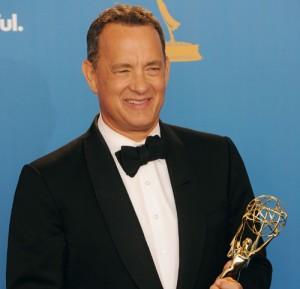 Tom Hanks, winner of the Outstanding Miniseries Award for The Pacific at Sunday night's Emmys, is ready for his next project and is very excited to work with a fellow Oscar-winner! The veteran actor is gearing up to film Extremely Loud and Incredibly Close, and he can't wait to collaborate with Sandra Bullock!
"Well I have left a voicemail for Sandra ... Sandy. Can I call her Sandy? I can call her Sandy. I think she called the office back, but I hope to talk to her very, very, very soon," Tom told MTV News at the HBO Emmy afterparty. "The story is magnificent. Eric Roth wrote a brilliant screenplay, which makes our lives very easy because you just read it and you say, 'I would be honored to be a part of this.' "
Article continues below advertisement
Tom said he really admires his fellow Oscar-winner's work.
"I am a huge Sandra Bullock fan. I've only met her a couple of times. She is a magnificent actress," he raved. "And every time we've seen her, even just as recently as The Proposal and The Blind Side, we've thought, 'We'd be lucky to work with her.' "
OK! NEWS: SANDRA BULLOCK & TOM HANKS TO CO-STAR IN POST 9/11 FILM
The film is focused on a New York boy whose father was killed in the 9/11 attacks and is based on a novel by Jonathan Safran Foer.