NEWS
VIDEO: Tony Parker's Alleged Scandal Gets Animated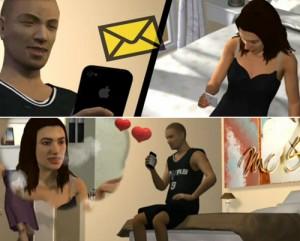 Tony Parker and Eva Longoria's divorce is no laughing matter, but when the situation is animated by Taiwan's Next Media Animation it's kind of hard not to laugh!
OK! NEWS: TONY PARKER FILES FOR DIVORCE IN TEXAS
From the makers of Tiger Woods and Elin Nordegren's animated scandal summary comes"Eva Longoria to divorce love-cheat Tony Parker."
According to the Huffington Post, the video is an animated interpretation of the events leading up to Eva and Tony's divorce including his alleged affair with French model Alexandra Paressant and sexting relationship with his former San Anotnio Spursteammate's, Brent Barry, wife, Erin Barry.
Article continues below advertisement