NEWS
VIDEO: 'Toy Story 3' Meets 'Inception' — Ken & Barbie Take on Leo DiCaprio & Ellen Page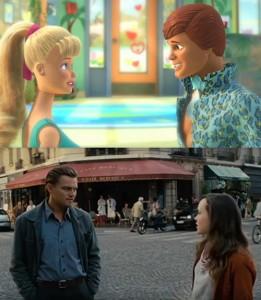 What happens when two of the summer's biggest blockbusters collide? A hilarious trailer combining the genius of Inception with the animation of Toy Story 3. The humorous video has hit YouTube and is going viral. While the two films may not have much in common, combined together in Toy Story 3: Inception, they reach Internet gold — just as the movies have done at the box office! Ken plays Leonardo DiCaprio's character and Barbie as his hired "dream architect" Ellen Page are entwined together beautifully.
Article continues below advertisement
ScreenRant has done an impeccable job of married the two films into one trailer!
Toy Story 3: Inception imagines the Ken doll as the brooding, dream extractor (played by Leo) and his girl Barbie as Ellen, a newbie to the world of creating dreams!
"I specialize in a very specific type of security," Ken tells the other toys. "Subconscious security."