NEWS
VIDEO: Vanessa Hudgens Says 'Sucker Punch' Action is as Good as '300'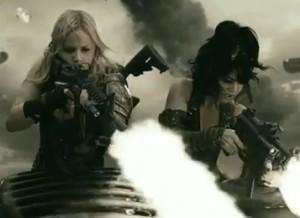 They may be ladies, but Vanessa Hudgens says the action in the new Zack Snyder film Sucker Punch can compete with 300!
OK! GALLERY: VANESSA HUDGENS HIDES AS SHE HEADS OUT IN HOLLYWOOD
Vanessa, Emily Browning, Jena Malone and Jon Hamm and more star in this new superhero film, Sucker Punch, that's filled with all the action you could want!
"Gun training is the best," Vanessa told Access Hollywood. "It's the most empowering feeling you can get, especially as a woman — I think it's so thrilling."
Article continues below advertisement
The film also has a burlesque aspect that Vanessa and Jena say works!
"The wardrobe is just so theatrical in a sense," Vanessa said.
"Tasty forms of lingerie meets heavy artillery meets mental institution meets dancer," Jena added. "There are a lot of different worlds colliding."
OK! GALLERY: VANESSA STANDS BY HER MAN ZAC FOR CHARLIE ST. CLOUD PREMIERE
Snyder is known for both 300 and Watchmen and Vanessa says Sucker Punch is just as good!
"There are a lot of elements that 300 didn't have," Vanessa commented. "But when it comes to the action, I'd say it's just as badass."
Based on the three months of training the ladies had to do before filming and five months during shooting, we believe it!
"We'd wake up in the morning, do martial arts, learn our fighting choreograph and then take a break where they'd feed us protein shakes," Vanessa said. "I would pass out and Jena would ice herself. We'd try and do nothing. Then we'd train with navy seals for about an hour and a half and then on Tuesdays and Thursdays we'd have gun training afterward."
Check out the Sucker Punch trailer below!
Sucker Punch hits theaters on March 25, 2011.