NEWS
VIDEO: Whoopi Goldberg Presents Jesse James' Defense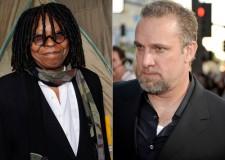 Whoopi Goldberg offered a different perspective on the Jesse James' cheating scandal today during the "Hot Topics" segment of The View. The Oscar-winning host came to the defense of the West Coast Choppers founder and Monster Garage star, offering reasoning behind Jesse's infidelity towards wife Sandra Bullock and defending his tattoos.
"It's nobody's fault," the co-host said. "Maybe he was looking for something different."
Article continues below advertisement
Whoopi may have been playing devil's advocate, trying to show both sides of the coin; however, she also took it to a personal level.
OK! NEWS: REPORT — JESSE JAMES MADE OVER A DOZEN SEX TAPES
"Hey, listen, I did it five or six times," she said of her own indiscretions. "Yes, I screwed around. Yes, while I was married. I made those mistakes too, yeah. It happens sometimes. It happens... Maybe he wanted something wonderful in his life but couldn't deal with it."
Whoopi may share unfaithful practices with Jesse, but that's not the only thing the cheaters have in common.
"I have tattoos!" she declared.
"Maybe there is something else to look at here than saying hey, he's a bonehead," she continued.
Watch the clip below, via E! Online: