NEWS
VIDEO: Yoko Ono Gives Her Blessing to Lennon Biopic 'Nowhere Boy'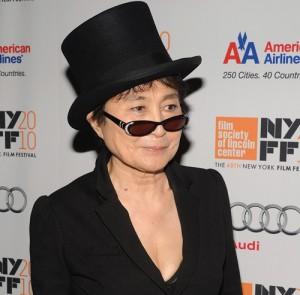 Yoko Ono has granted her seal of approval to the John Lennon biopic that already captivated audiences across the pond. Nowhere Boy depicts the troubled youth of a pre-Beatles John, as he begins a band and struggles with family matters. The film will be released Oct. 8 in the U.S., the day before what would have been John's 70th birthday.
Article continues below advertisement
Yoko has been known to disapprove of numerous tributes to her late husband, and according to PopEater, she even cut down a Purple Magazine photo of her son, Sean Lennon which imitated the famous Yoko and John cover of Rolling Stone, allegedly denouncing it as "a farce and a spoof."
"I'm so glad you guys are here to watch this film. The first time I saw this film, I was choked up. It's an incredibly, incredibly real film. That's what I like about it; Sam is telling the truth," Yoko said of Nowhere Boy (directed by Sam-Taylor Wood) and the performance of 20-year-old Aaron Johnson, during a screening in NYC last week.
"John would have loved it, because he would have loved that you know the pain he went through in his childhood," Yoko added. "That pain really created all the songs and statements he made. It made him a very wise person. You might think it's terrible John went through all this, but it was a blessing."
OK! VIDEO: BEATLES REUNION AT RINGO STARR'S BIG APPLE BIRTHDAY BASH
Catch Yoko praising Nowhere Boy and the trailer for the film below!
Trailer for Nowhere Boy :