NEWS
VIDEO: Young Rapper Lil' P-Nut Wows Ellen Audience Again!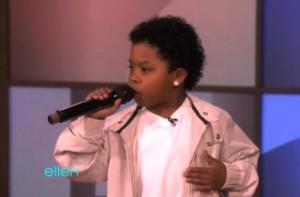 Ellen DeGeneres is all about supporting young talent on her afternoon talk show. The host had 7-year-old rapper Lil' P-Nut return to her show today and he received a standing ovation from the audience for the performance of his new hit, "You Might Be The One."
The adorable P-Nut impressed Ellen so much that she even gave him a tiny Cadillac Escalade to "roll out" in!
So what does the aspiring young actor want to be when he grows up?
Article continues below advertisement