NEWS
VIDEO: Zac Efron Says Strip Club Visit Wasn't What He Envisioned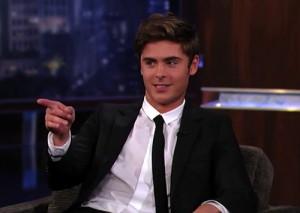 Zac Efron wasn't too ashamed to admit on Jimmy Kimmel Live! that he and his High School Musical pal Corbin Bleu did in fact visit a strip club in NYC this past weekend. But, it wasn't as great as he expected!
OK! GALLERY: ZAC EFRON IS FAN-FRIENDLY, FULLY CLOTHES IN L.A.
Zac confessed to Jimmy Kimmel that the reports that he visited a strip club over the weekend are true.
But, hey, he's 22, it's legal and he's laughing about it now!
Article continues below advertisement
"I had this image of what it'd be like. I've heard a lot about these places, mostly from rap music — they're supposed to be pretty reputable!" Zac said Wednesday night. "So I envisioned myself in a nice couch with stunna shades with T-Pain and Usher making it rain money! And it just wasn't like that."
OK! NEWS: ZAC EFRON REPORTEDLY SPENDS $2,000 AT STRIP CLUB
But being the responsible man that he is, Zac did call his girlfriend, Vanessa Hudgens, before he went. Only problem is, that's not the easiest thing to tell your girlfriend you're planning on doing!
Watch the clip below!
OK! VIDEO: SHIRTLESS ZAC EFRON SWIMS BEHIND-THE-SCENES!
Later in Zac's interview, he showed a clip from his upcoming film, Charlie St. Cloud. "Going with the theme of the evening," Zac said to set up the clip, "I'm getting in a fight in a bar."
Charlie St. Cloud opens in theaters Friday!
Watch the clip below!