NEWS
VIDEO: Zac Says "It Was Hard" Telling Vanessa 'Charlie St. Cloud' Beat 'Beastly'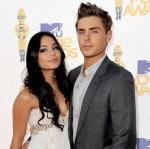 Zac Efron's new film, Charlie St. Cloud, hits theaters July 30, which was the release date of his girlfriend Vanessa Hudgen's film, Beastly. Until, that is, his film gave Beastly the boot.
OK! GALLERY: STARS GO GLAM FOR THE ESPYS
"It was disappointing," Zac told MTV News. "It was hard. I actually had to break the news to her. I was like, 'I think we are moving on to your date.' ... She took it really well, but it's hard when that kind of stuff happens."
Article continues below advertisement
"We don't, as actors, have any control over it, so we'll see," he added. "I mean, hopefully it will work out for the best. Beastly is a great movie, and when it does come out, people are absolutely going to love it."
OK! VIDEO: ZAC EFRON'S NOT GETTING MARRIED "'TIL I'M 30"
Now, Beastly has been pushed back to March 2011 and Vanessa is glad.
"I just didn't feel right about us having movies coming out on the same day," she told MTV News. "It's just not right."
"We're actually going to be doing some re-shoots and changing it up a bit, so hopefully we'll make it that much better."