NEWS
VIDEOS: Letterman Returns, Makes Apology to Wife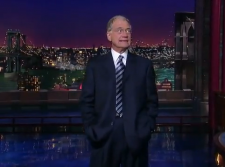 In the wake of a possible sexual harassment/alleged extortion/definite extramarital affair scandal, David Letterman chose not to hide behind locked doors but to step out in the spotlight on Monday night to face his demons head-on.
Speaking about his wife Regina during Monday night's broadcast of The Late Show, Letterman said she's been "horribly hurt by my behavior," referring to his confession last week that he had been involved in extramarital affairs with female co-workers.
Article continues below advertisement
"If you hurt a person and it's your responsibility, you try to fix it," he continued. "Let me tell ya folks... I got my work cut out for me."
Attempting to bring some humor to the dark situation, Dave joked, "This is only Phase 1 of the scandal. Phase 2: Next week, I go on Oprah and sob."
Letterman arrived on stage Monday to applause and cheers from his studio audience. After drinking it in, he grinned sheepishly and inquired, with a mock stammer, "Did your, did your weekend just fly by?"
Dave also attempted to cut through some of the palpable tension in the room during his monologue and then again later while chatting with guests Steve Martin and Martin Short: