NEWS
Vienna Girardi: From Dancing Shoes to Wedding Shoes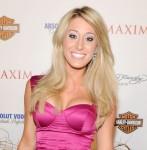 Former Bachelor Jake Pavelka, who competed on Dancing With the Stars this season, returned to the show Tuesday night to perform with his fiancée, Vienna Girardi; backstage after the show, Vienna revealed to reporters that she's already picked out her wedding shoes.
OK! GALLERY: JAKE & VIENNA HAVE FUN SOAKING UP THE SUN
The two haven't set a date yet, "but I found my shoes," Vienna said. "They're Jimmy Choo and they have crystals all over them. They're like Cinderella slippers."
Article continues below advertisement
OK! NEWS: DWTS WATCH — JAKE PAVELKA STUMBLES OFF THE DANCE FLOOR
Meanwhile, Jake and Vienna look like they're right on target for a great wedding dance. Vienna did her boyfriend proud by twirling around the floor for viewers in a short exhibition for the finale. "It was great," Jake raved.
In fact, the dance went so well that everyone was buzzing backstage that Vienna should do DWTS next. "I keep hearing that question tonight," she said. "When they asked me to dance, I was a little nervous, but I thought, 'Why not? Jake had so much fun.' I said I'd love to try it. I dressed like a princess. I loved it."
OK! NEWS: JAKE & VIENNA — WE"RE NOT MARRIED!
Jake told OK! he wouldn't stand in Vienna's way if she wants to compete on DWTS. "I can't be selfish. She gave me the time to do it. If it did come down to them asking her — we'll look, see where our lives are, and if it makes sense, go for it."
For now, Vienna is reveling in her little dance cameo. "We only had a couple of rehearsals and I kept going, 'I'm not ready for this! I'm going to fall! My knees are going to shake!' But it was a blast."