NEWS
Vienna Girardi Tells OK! She Was "Terrified" To Move into 'Bachelor Pad' House with Ex Jake Pavelka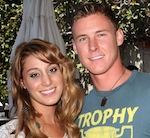 One would think that living in a house with an ex-fiancé would be hard enough, but imagine how "terrified" Vienna Girardi was to move in with her once almost husband, former Bachelor Jake Pavelka, and her current boyfriend Kasey Kahl for ABC's upcoming Bachelor Pad! The 25-year-old and her new beau exclusively spoke to OK! on Friday about her valid woes going into the show, but the outcome being much better than she had expected.
Article continues below advertisement
"Honestly, being on the show together made our relationship even stronger," Vienna gushed to OK! while out at the W Hotel Westwood with Kasey, "It tested some limits. I mean, we argued. We had fights, but everything we did on the entire show built us up stronger as a couple."
OK! NEWS: BACHELOR & BACHELORETTE CAST MATES REUNITE FOR A NIGHT OUT IN THE BIG APPLE
Although the drama on the series brought her and Kasey even closer, Vienna still admits that she was, "terrified going into the show knowing that Jake was going to be there."
So how did Kasey deal with being in the same house with his girlfriend's ex?
OK! NEWS: JILLIAN HARRIS SAILS ON
"With being on the show, you can obviously imagine, knowing what Vienna's ex-fiancé has done to her and then I have to put up with that," Kasey explained to OK! of what to expect on the Bachelor Pad while at 102.7 KIIS FM's Gift Lounge in honor of the Teen Choice Awards, and added, "It's definitely crazy. You'll definitely see some fireworks fly, you never know."
Catch all of the drama between Vienna, Kasey and Jake, along with the rest of the housemates, on the premiere of ABC's Bachelor Pad this Monday Aug. 8!