NEWS
'The View' Apologizes to Rachel Uchitel, Lawyer Gloria Allred Reacts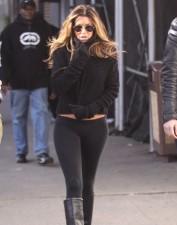 With rumors and allegations surrounding the first suspected mistress to come forward in affiliation with Tiger Woods, Rachel Uchitel's lawyer Gloria Allred issues a statement on Saturday to accept an apology distributed by ABC's The View, but still isn't satisfied as the celebrity attorney demands an on-air retraction to clear her client's name.
"The apology sends an important message to others who would dare to characterize her in that way. It is a significant step forward in this matter," Gloria writes, "However; we still think it is important that the apology to Rachel be broadcast on the air on Monday's show."
Article continues below advertisement
Unfortunately, since the show was pre-taped, an on-air retraction may not be possible, but ABC's written apology seems to cover all bases.
"Joy Behar made a play on Ms. Uchitel's name," reps for ABC wrote, "This was intended as a joke. We sincerely apologize for the choice of words and for any misimpression the joke may have created."
The fire was originally sparked when co-host Behar on The View joked about Rachel on Friday with a play on words saying, "Uchitel…You-ka-tell she's a hooker."
Allred then jumped to her client's defense demanding an immediate apology for comments that she refers to as, "false and defamatory and highly offensive," in her legal announcement, "because it was not true," to which ABC responded with their written statement.
For now, Allred has to wait for Monday to see if The View will indeed follow through as she stresses the importance of an act of contrition.
"Rachel values her reputation and we look forward to ABC's broadcasting their apology to all those who heard it on their show. Because the statement was made on The View, the apology must be broadcast on that show as well," Gloria demands.