NEWS
Viewers Come Back for ER Finale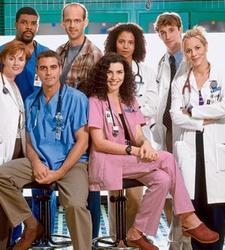 After 15 seasons and countless cast changes, NBC's long-running hospital drama ER closed its doors last night, and it didn't go out with a whimper.
According to ratings released today, the final episode of ER was watched by 16.3 million viewers, its biggest audience in three seasons. It was even a significant ratings jump over an episode in March that saw the much-anticipated return of former show star George Clooney.
Article continues below advertisement
While the numbers for ER were impressive, they don't put the show's finale anywhere near the list of top series-ending episodes ever. In recent years, Friends pulled in around 52.5 million viewers for its finale, while the Seinfeld farewell was watched by 76 million, just 4 million short of the Cheers finale. Of course, these are all completely overshadowed by the Goliath of series finales — M*A*S*H, which had most of the country, 106 million people, tuning in to watch the final episode on Feb. 28, 1983.
ER's ORIGINAL CAST: WHERE ARE THEY NOW?