NEWS
Viggo Mortensen, Jason Isaacs Light Up 'Good' Premiere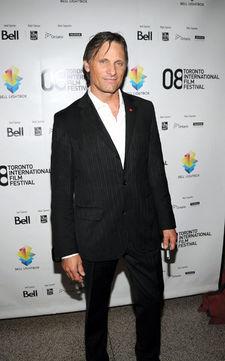 Viggo Mortensen is the star of the Good premiere, which takes place at the Elgin Theatre during the Toronto Film Festival.
The dapper actor, 49, is considered to be a heartthrob around the world, so where does he meet the women of his choice?
"Where she is," he tells me, laughing. "It's hard to meet her if you're not with her. I mean that in more ways than one."
Despite the heaping praise he must receive, Viggo doesn't let compliments go to his head.
Article continues below advertisement
"I haven't gotten to the point of realizing or thinking I'm good at something. Every time you think you're good at something or have something figured out is when you probably screw up. I think it's good to realize that life is a work in progress."
The divorced actor continues, "You call it a marriage? It's an idea. Marriage is the process of somehow getting along. It's give and take."
Jason Isaacs, who is a Harry Potter staple, also appears in the drama. Even though his costar Daniel Radcliffe is starring in Broadway's Equus, Jason doesn't care to see him in it.
MORE ON:
Red Carpet Confidential
"Since I'm going to work with him again and again and again, I'm not sure I want to go watch him naked," he tells me.
Afterwards, I sail on over to the Paris Hilton party held at Ultra Supper Club. Sadly Paris doesn't do press because it's raining outside. She has six umbrella holders shielding her and her posse! She towers over boyfriend Benji Madden in total TomKat fashion.
Catch Good in limited release this December.