NEWS
Vinny Guadagnino Recalls Being Bullied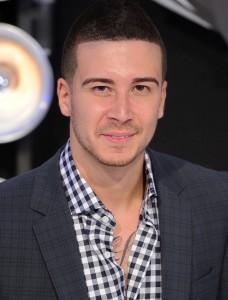 Just because Jersey Shore star Vinny Guadagnino is on TV's hottest reality show doesn't mean he was popular growing up.
"I was bullied in high school by a lot of girls," the reality star, 23, tells me during a Philips Norelco event in NYC. "I wasn't the least popular kid, but I wasn't the most popular kid, and high school kids are vicious sometimes, if you're not the most popular kid."
He adds, "I have strong feelings about anti-bullying. It's really bad now, especially with online, so I definitely got bullied when I was a kid and I know what it feels like. I'm stepping up for the underdogs."
Article continues below advertisement
For Vinny, being singled out was difficult.
"I was a little awkward growing up. Girls would just find whatever they could. Call me 'nerdy,' because I wasn't the biggest jock in school. High school kids can get vicious. They gang up, they clique and they ignore. Things can hurt – not even just words."
What advice does he have for those who are being relentlessly teased?
"You can't let people affect you, and that's in life in general, whether it's your boss or your teacher or whatever," he says. "You have to realize that people are mean because of their own problems, so you actually have to feel bad for those people. If you flip that around in your own head, it'll make it easier for you, because you actually become the one with the upper hand."
Pick up the OK! on newsstands now for more on Vinny. The cover line is "Angie Sabotages Jen's Wedding." And, catch Vinny on Jersey Shore, which airs tonight at 10/9C on MTV.