NEWS
Vinny Guadagnino Writes a Poem for His "Orange Friends" After 'Jersey Shore' Finale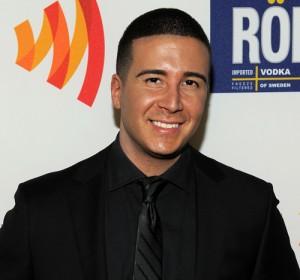 What better way to say farewell to the Season 3 of the Jersey Shore than with a poem! Cast member Vinny Guadagnino is a poet and he didn't even know it. The guido posted a poem entitled, "The End," in which he recounts some fond memories he shared with his compadres in Seaside Heights this summer!
Vinny posted the literary masterpieces on his recently launched blog, Words From Vinny, including lines "From serious dinners to silly pranks, some were winners, and some were skanks" it sure seems like a Jersey Shore anthem.
Article continues below advertisement
But we all know this isn't the last we'll see of the fist-pumping group of close friends! They will invade Italy for Season 4 of the hit MTV reality show!
"Preparing for Italy is pretty much preparing for any of the other seasons, trying to get in shape, trying to spend some time with my family, chill out, the quiet before the storm," Vinny told MTV recently of heading to Europe. "I'm excited to be thrown right into the water with whatever language skills I have."