NEWS
Vivica Fox Is Crushing on Zac!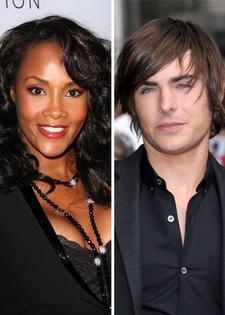 Times, they really are a-changin'. Thanks to shows like The Cougar (and the term in the first place) it's becoming mainstream for an older woman to have a handsome younger guy on her arm these days.
Enter Vivica Fox, the host of the new show debuting April 15 on TVLand, who's more than ready to dive into the pool of available young men.
"I was so happy to see The Cougar was going to be a grown-up, sexy form of a dating show. It's about time people understand that cougars are all the rage," Vivica tells PopEater. "We have to inform, empower and enlighten the rest of American women and let them know if they happen to meet a guy who is younger to give him a chance. It's okay."
Article continues below advertisement
So if she had her pick of pretty little things in Hollywood these days, who would be her favorite?
"Zac Efron is just so gorgeous to me. He's a hot piece," she reveals. She even says she saw High School Musical just for her crush. "I went just to look at those beautiful blue eyes... They're are just 'Wow!' Muy caliente."
She's got that right!