NEWS
Walk Off The Pounds!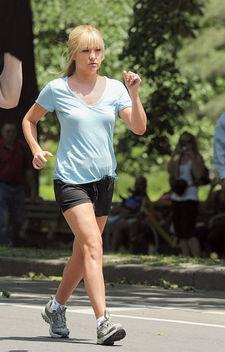 Walking is simple, easy, low-impact and can be done anywhere! Tracey Staehle, who recently released her DVD Walking Strong Cardio Workout, tells OK!, "Walking is good because it's appropriate for all fitness levels and ages, and it's a great way to strengthen your cardiovascular endurance." Whether you're looking to tone your legs, lose weight or strengthen your heart, there are different ways to approach walking. "If your goal is to increase your cardio stamina, then you want to be able to hear yourself inhaling and exhaling. Beginners and people trying to walk for weight loss should walk like they're about to miss their flight!" advises Staehle. "Advanced walkers would benefit from increasing their stride length, intensity with hills and pumping their arms."
Article continues below advertisement
A simple walk can help you clear your head, catch up with pals or simply get you to where you're going. And the best part is, you're burning calories too. "A 150-pound woman walking 3 miles at 2 miles per hour will burn about 250 calories," says Staehle. "The same person walking 5 miles per hour for 5 miles will burn about 545 calories." How much you burn depends on your metabolic rate and how much energy you put into it.
As you incorporate more walking into your daily routine, make sure to stay hydrated. According to Staehle, you should drink about 4 ounces for every 15 minutes of vigorous activity.
As you get stronger, you can walk farther and faster. Staehle says, "If you walk consistently at a faster pace, you will burn more calories." So grab your sneakers and your dog or your best friend and hit the pavement!
How to power walk
Article continues below advertisement
If you want to burn calories and tone up, a simple stroll while window shopping isn't going to cut it! Staehle tells OK! how you can turn your afternoon jaunt into a workout:
Take longer strides
Really extend your legs forward with every step you take.
Activate your core
Feel your abs and back muscles tighten as you walk.
Engage your glutes
Your butt should feel the burn! Keep it tight the whole way.
Foot strike should be heel-ball-toe rolling through your foot
Make sure you are wearing the right sneakers that allow your feet to maneuver like this.
Move your arms
Keep your elbows bent at about 90 degrees, close to your body, and swing the opposite arm with each step.
Incorporate hills or walking up stairs
Take shorter strides up- and downhill so that you're not putting too much pressure on your joints.
Add resistance
Whether you're pushing a stroller or carrying weights, there's always a way to add more resistance.
By Karen Berg