NEWS
Wanda Sykes Reveals Breast Cancer Battle: 'I Had Both Breasts Removed'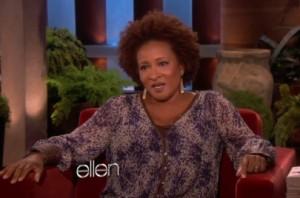 Article continues below advertisement
Wanda discovered she had cancer after she went into to the doctor to have a breast reduction.
"It wasn't until after the reduction that in the lab work, the pathology, that they found that I had DCIS in my left breast… DCIS is basically stage zero cancer. So I was very lucky. But cancer is cancer," Wanda explained to Ellen. "I had the choice of, you can go back every three months and get it checked. Have a mammogram, MRI every three months just to see what it's doing. But, I'm not good at keeping on top of stuff. I'm sure I'm overdue for an oil change and a teeth cleaning already. I have a lot of breast cancer history on my mother's side of the family, which I didn't know about."
OK! VIDEO: CELEBS "GIVE A DAMN" ABOUT HATE CRIMES
So Wanda was faced with a tough decision.
"I had both breasts removed because now I have zero chance of having breast cancer," she said. "It sounds scary up front, but what do you want? Do you want to wait and not be as fortunate when it comes back and it's too late?"
And now the mother of 2-year-old twins with her wife Alex has decided to speak out on her battle.
"I was like, 'I don't know, should I talk about it or what?' How many things could I have? I'm black, then lesbian. I can't be the poster child for everything," Wanda joked. "I was real hesitant about doing this because, I hate walking. I got a lot of walks coming up!"