NEWS
Want to Make Justin Timberlake or John Travolta's Fave Dish? Celeb Chef Jason Harley Shows Us How!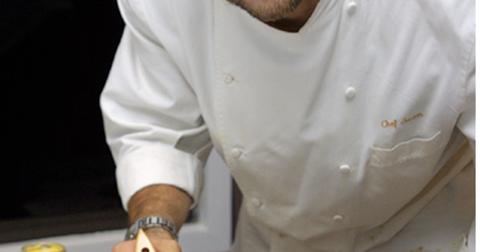 Jason Harley has been working with Hollywood A-listers such as Brad Pitt, Jennifer Aniston, John Travolta, Justin Timberlake and Pamela Anderson for years now and knows how to get them into tip top shape!
He crafted a plan for his clients to help them lose weight, which consists of very healthy and simple eating.
Here's a breakdown of what he would have them do:
For breakfast they would eat, "Egg whites and a spinach omelette with some fresh fruit. For a snack in the afternoon hummus with some pita bread. For lunch they would have a nice salad with some kind of protein and then for dinner I would do some kind of grilled fish or some meat with vegetables. My whole style of cooking to this day is six ingredients or less."
Article continues below advertisement
Want to eat like the stars? Jason shows us how!
"Pamela Anderson loves my Grilled Portabella Mushroom Wrapped in Lettuce served with a lemon basil Dijon dressing-everything organic and fresh from the farms."
1 portabella mushroom
season with salt pepper and 1 clove of chopped garlic and 4 leaves of chopped fresh basil and 1T evoo -rub all over and let it sit for 4 hours
-Grill mushroom on a hot grill on both side for 3 mins then bake in a 450 degree oven for 10-15 mins depending how thick the mushroom is
-when done let cool slightly and wrap in a large leaf of iceberg lettuce
dip in the lemon Dijon dressing
Lemon Basil Dijon Dressing
1 lemon juiced
4 T evoo
1 T Dijon
s/p
2 T red wine vinegar
1 T chopped basil
whisk all together- season with s/p -use as a dip or drizzle for the mushroom "sandwich"
"Justin Timberlake and his mom love my Butternut Gingered Squash soup.  When I was the chef at the Green house in Sundance a few years ago Justin had me make a special dinner for his mother's birthday and I had to fly in from Cali butternut squash cause it was out of season and I needed it  to make the soup. It went over well and all had a great time.
Article continues below advertisement
Butternut Ginger Squash Soup
3 T Extra Virgin Olive oil
1 lg butternut squash peeled and seeded and chopped up in pieces
2 lg onions chopped
1 T garlic chopped
2 T ginger chopped
a pinch of cinnamon  
s/p t.t.
2 1'2-3 qts. vegetable broth as needed
Heat oil and cook garlic onions ginger and squash for 10 mins stirring all the time.  Season salt and pepper and with cinnamon.
pour in veg broth and make sure veggies are covered , bring to a boil and then down to a simmer and cook for 45 mins.-1 hour until all veg are tender.
Puree the whole soup and season with s/p garnish with chopped chives
"John Travolta" loves the Grilled Filet Mignon with a rosemary port wine sauce and a grilled asparagus.  I would always serve seconds:)))
1/2 bunch asparagus
-peel stems and boil water with salt
-add asparagus to boiling water for 3 mins
-take out and put in a bowl of ice water.
-dry off and toss in olive oil, season w s/p and put on a hot grill for 3-4 mins  
Article continues below advertisement
put on a plate stacked up, slice the filet
1- 8 oz filet mignon
s/p
1 sprig rosemary chopped
season filet w the s/p chopped rosemary let sit for 2 hrs
1/2 bt port wine
1/2 onion chopped
1/4 c beef broth
2 cloves garlic chopped
1 sprig of rosemary
s/p
Take the wine, broth, onions, garlic and rosemary in a pot bring to a boil and then simmer, reduce down by half.
Strain through a sieve and put aside.
Grill the filet on a hot grill then bake in a 500 degree for 5-7 mins for a perfect medium rare
Let the meat rest for 5 mins before slicing.
Right before you serve, put the grilled asparagus on the plate- add the sliced filet on top and bring the sauce to boil and glaze the filet and drizzle sauce around plate yummmmmy!!!!!!
Jason has his own restaurant in LA called Pici definitely worth checking out!
Which recipe will you make? Tell us @OKMagazine