NEWS
Warren Sapp Arrested for Domestic Battery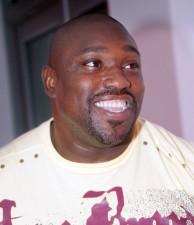 With stars from far and wide flocking to Miami for the upcoming Superbowl, Warren Sapp may have to miss kick off as the NFL player and analyst was arrested on Saturday morning for domestic battery according to new reports.
According to TMZ, the Dancing with the Stars alum was taken in by Miami Beach Police at 5 AM at the Shore Club Hotel for allegedly attacking his girlfriend, who had," a swollen right knee and bruises on the back of her neck.," as stated in the police report.
Article continues below advertisement
While Warren told police that he was trying to help the victim out of bed and she fell, his girlfriend has a completely different story.
CLICK HERE FOR MORE OF OK!'S SUPERBOWL NEWS AND PICS
Even though she claims that Warren invited her back to his room, he barged in, "grabbed her and began to choke her," over an argument based on who she had been hanging out with the night prior, TMZ reports.
Warren came to his own defense while speaking with authorities according to TMZ, as the sports figure says he just wanted her to leave because he was, "expecting company."