NEWS
Watch American Idol's Jacob Lusk Talk to OK! About Being Voted Off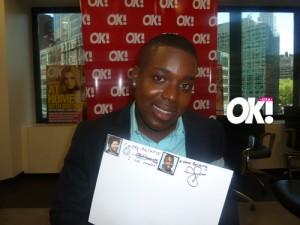 With the American Idol finale just two weeks away, it is getting very hard to predict who will get voted off. Last week we had to say goodbye to 23-year-old singer Jacob Lusk. With powerhouse pipes, Jacob always brought the house down with his killer performances, but now he tells OK! he is ready to focus on this summer's Idols Live Tour! We sat down with Jacob, where he talked about how it felt to get voted off, which of the contestants was the loudest to live with and if he regrets what he said the week he sang "Man in the Mirror."
Article continues below advertisement
Are you surprised that Jacob was voted off? Who do you think is going to win the show? Tell us in the comments below.