NEWS
Watch 'America's Got Talent' Sandou Trio Shock With Death-Defying Performance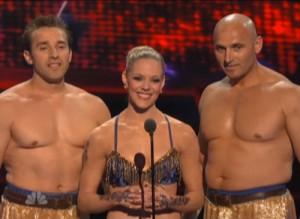 America's Got Talent showcases a wide variety of skills every Tuesday night on NBC, and yesterday's quarter-finals featured one of the most dazzling groups ever on the reality competition — Sandou Trio Russian Bar.
The female member of the trip showed courage and outstanding balancing skills as she performed flips and acrobatics on top of a balance bar held by her two male partners.
Article continues below advertisement
And that's not all.
She did the stunt on top of a bed of nails and fire!
The result? A astonishing, crowd-pleasing performance which topped the evening!
"It's dangerous, it's beautiful to look at," judge Sharon Osbourne praised. "I've never seen an act like this before, never. I just applaud you."
Catch the clip, via TV Squad, below!