NEWS
Watch Amy Winehouse Get Booed Offstage in Wobbly, Mumbling Belgrade Performance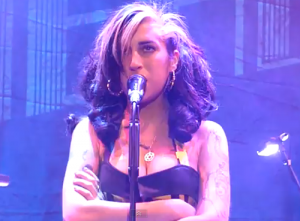 Amy Winehouse had a pretty rough run Saturday night when she kicked off her comeback tour in Belgrade, Serbia. The British singer did not deliver the type of concert her fans paid for as she reportedly was drunkenly wobbling across the stage, mumbling lyrics and was eventually booed off. Now, the future of Amy's tour in in jeopardy.
The BBC, via PopEater, reports that Amy threw her mic to the floor, when she wasn't mumbling lyrics.
Article continues below advertisement
In a video taken by a concertgoer, Amy is seen after resting on equipment and wandering around the large stage, unable to stand straight.
The 27-year-old singer has been in and out of rehab.
Her rep released a statement, via PopEater, after Amy's shoddy performance that her Monday night show in Istanbul and Wednesday's concert in Athens have been canceled because "she cannot perform to the best of her ability" and feels "this is the right thing to do."
Her tour is now slated to resume July 8 in Spain.
Watch Amy's concert blunder in the clip below. Do you think she will pull it together for the rest of the tour? Sound off in the comments.