NEWS
Watch Anderson Cooper Add "People Paying Snooki" to His 'RidicuList'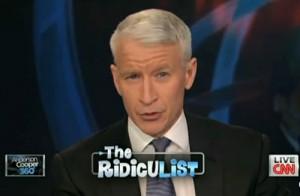 Anderson Cooper isn't calling the Jersey Shore's Snooki ridiculous, but he's coming pretty close! On Anderson Cooper 360, Anderson explained why he's adding "people paying Snooki" to his "RidicuList."
OK! NEWS: JERSEY SHORE CAST CASHES IN ON SEASON FOUR!
"Snooki is one impossibly lucky, unusually spunky, freakishly tan, beer guzzling, juicehead hugging, muscle loving, Botero body, pint-sized money-making machine," Anderson began his rant (via PopEater).
Article continues below advertisement