NEWS
Watch Ann Curry's Debut as 'Today' Co-Anchor: "I Feel Like Cinderella"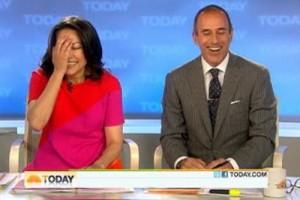 Ann Curry made her debut this morning as Today show co-anchor opposite Matt Lauer, replacing veteran Meredith Vieria who departed the position yesterday to spend more time with her family. Ann certainly seems up for the challenge and was welcomed with open arms — and a video montage of her career — this morning on the beloved NBC morning news program.
"I really feel like Cinderella. Ann Curry aka Cinderella," she told viewers, after opening the show with: "I'm Ann Curry and I'm in for... I guess nobody this morning. Me, myself and I. I can't believe it. It's such a thrill."
Article continues below advertisement
OK! NEWS: MEREDITH VIEIRA'S TODAY SHOW REPLACEMENT ANN CURRY SAYS "SHE'S A WOMAN TO LOVE"
In May, Ann was announced as Meredith's replacement.
Matt opened this morning's show, proclaiming it was the start of "an exciting new era" and "an exciting new chapter in the history of this show."
"In many ways this is a very comfortable fit," he said. "You've been with his program for 14 years, longer at NBC. It's a bit like a member of the family simply moving to a new seat at the table and we're thrilled to have you here."