NEWS
Watch Anne Hathaway Rap on 'Conan': "Pop Pop Pop, My Camera's Up Your Crotch"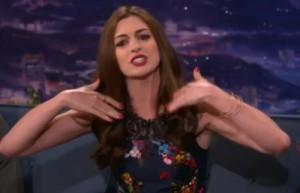 Anne Hathaway can do it all. The One Day star joined Conan O'Brien Tuesday night and delivered an impromptu Lil Wayne-style rap that's so spot on, it can't be missed!
Anne was one of the guests on Conan on Tuesday night to promote her new film, One Day, but the real thing she seemed to be promoting was her impressive rap skills!
The ginger host challenged her and had his house band set the beat, and Anne gave it her all, busting out a serious rhyme "in the style of Lil Wayne."
Article continues below advertisement
He subject? Paparazzi.
"Yo, I'm a paparazzi. I don't play no Yahtzee… Pop, pop, pop, pop, pop, my camera's up your crotch," she delivered with serious attitude and swagger. "Don't call me scuzzy, making money, that's my job."
Catch the clip below, via TBS, and see Anne on the big screen opposite Jim Sturgess in One Day, out this weekend!