NEWS
Watch Ari Go Nuts After Learning His Wife is Dating Bobby Flay on 'Entourage'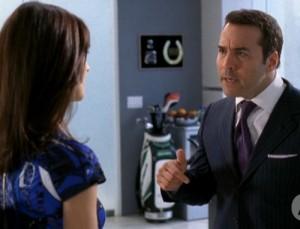 It's no surprise when Ari Gold's blood pressure skyrockets through the roof, but this time his stress level escalated over a more serious matter. Jealousy can be very dangerous, and when Ari (Jeremy Piven) found out his estranged wife Mrs. Gold (Perry Reeves) was dating celebrity chef Bobby Flay, he flipped out on Entourage!
Last night on Entourage, Ari thought he had pinned a young waiter at one of his favorite restaurants as the mystery guy his wife was dating, and he even missed out on his Mad Men audition because of it.
Article continues below advertisement
But it turns out he was wrong!
Ari later learned that the reason his wife frequents one of his favorite restaurants is because she is romantically involved with the owner — Bobby Flay.
And Ari wasted no time in declaring the chef as enemy No. 1.
"Everyone hear my words. Bobby Flay is now my sworn enemy which means he is yours," he told his staff in an emergency meeting, adding, "if anyone eats or even recommends any one of that boy meets grill f***ing establishments, it will be agent meets fist."