NEWS
Watch Bam Margera's Emotional Visit to Ryan Dunn's Crash Scene: "It's Not Right"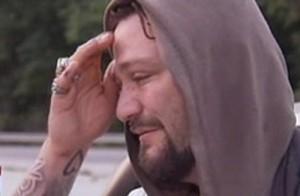 Bam Margera is having a very difficult time coping with the loss of his best friend and Jackass co-star Ryan Dunn. The stunt-loving reality star revealed that he completely broke down while visiting the scene of the crash that killed his 34-year-old friend Monday morning.
"I've never lost anybody that I care about. He's my best friend," Bam said in a video interview with myFOXphilly.com, Tuesday from the crash scene.
Article continues below advertisement
He continued: "He was the happiest person ever, the smartest person, with so much talent. He had so many things going for him. It's just not right, it's not right."
Ryan and his passenger, Zachary Hartwell, 30, both died after his 2007 Porsche crashed into a wooded area along Rt. 322 in West Goshen, Pa., at 2:38 a.m. Monday.
It is believed the passengers died from the impact of the fatal blow or the subsequent fire that engulfed the car.
Bam was in Arizona when he received the devastating news, that he described as the "worst phone call I've ever got in my life."
He revealed to the Fox Philly station that he even had a premonition about the crash.
"At 12:30 local time, I just started punching out the windows of the rental van and ripping out the speakers, and I don't even know why," he said. "I wasn't mad at anything or anybody. If it was 12:30 there in Arizona, that means it was exactly when he crashed."
Article continues below advertisement
Ryan's Porsche was found in a wooded area off the road "fully engulfed in flames," according to the police report released.
It will take four to six weeks for a toxicology test to be released, which will determine if alcohol had a role in the crash.
Bam first commented on his friend's death on Twitter, defending Ryan from movie critic Roger Ebert who Tweeted, "friends don't let jackasses drink and drive."
"I just lost my best friend, I have been crying hysterical for a full day and piece of shit roger ebert has the gall to put in his 2 cents," Bam Tweeted yesterday morning, followed by, "About a jackass drunk driving and his is one, f*** you! Millions of people are crying right now, shut your fat f***ing mouth!"
Watch Bam's emotional visit to Ryan's crash scene below.
Bam Margera's First Interview After Tragedy: MyFoxPHILLY.com