NEWS
Watch Betty White Seduce Juror to Avoid Jail Time on 'Hot in Cleveland'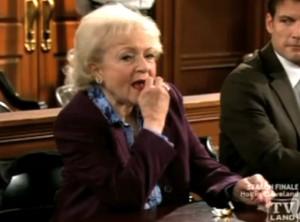 Betty White's Hot in Cleveland character, Elka Ostrovsky, is known for her sassy ways, especially when it comes to personal gain. So what does she do when she is in court facing possible jail time?
Seduces Juror No. 8!
"All you have to do is flirt, and maybe he'll feel sorry for you and vote to acquit," advises Melanie, played by Valerie Bertinelli.
OK! VIDEO: WATCH BETTY WHITE FEEL UP SAG STATUE DURING ACCEPTANCE SPEECH!
Article continues below advertisement
"Butterscotch, do your stuff," says Elka as she slowly unwraps her candy and sensually places it on her tongue.
Watch Juror No. 8's reaction in the clip, via TV Squad, below.