NEWS
Watch Beyoncé Chat With 'GMA' in Central Park & Surprise Kids in Harlem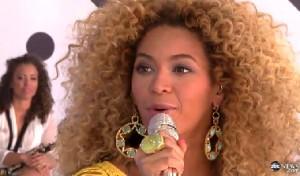 Beyoncé is back after taking a year off and really is better than ever. The talented singer took the Good Morning America stage today in Central Park in NYC to perform for her fans and promote her new album, 4. But she also made a special stop at a Target in Harlem to surprise kids of a local Boys and Girls Club.
OK! NEWS: BEYONCE TELLS PIERS MORGAN "I ALWAYS SAID I'D HAVE A BABY AT 30. I'M 29"
"We all know that you took some time off and I love how you said you wanted to step off the stage and join the audience," Robin Roberts said on Good Morning America. "What did you do?"
Article continues below advertisement
"I did everything you could imagine," Beyoncé shared. "I just really took my time to get to know myself. I learned how to appreciate everything that I've worked hard for. And it's something that my mother kept preaching to me because it's hard to see when you're moving around so fast. I really learned how to appreciate my family and all of my fans. And I realized all the impact that I've had on so many people and what a blessing and how fortunate I am to be able to touch so many people."
Beyonce also talked about her return to the big screen in Clint Eastwood's remake of A Star Is Born.
"Clint Eastwood. Can you believe that? I can't believe it still," Beyoncé revealed. "I know when I met with him I was just in awe. I am so, so honored that he believes in me and I can't wait to do this film. I represent this generation's talent and for me to be the chosen person — as an African American woman — is incredible!"
Article continues below advertisement
Watch Beyonce's Good Morning America appearance, below!
OK! NEWS: BEYONCE PULLS AN EAT, PRAY, LOVE — "A YEAR TO DO THE THINGS I NEVER GET TO DO"
But while in New York, Beyonce also decided to drop by NYC's Harlem Target on Thursday for it's one-year anniversary to surprise some kids from the Boys and Girls Club.
The kids danced to Beyonce new song, "Countdown," and in the middle of the routine Beyonce surprised them by joining them on stage, MTV News reports. The singer gave them a huge hug before they continued their performance!
Watch the surprise visit, below!