NEWS
Watch Beyonce Surprise a Gym Full of Girls Dancing to Her Song!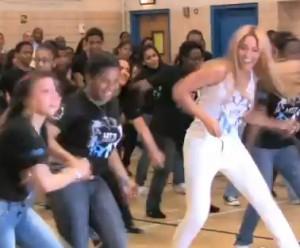 Who would expect Beyoncé herself to show up in gymnasium full of tween girls dancing to one of her songs? Not these students in Harlem at PS 161 Pedro Albizu Campos middle school, who were surprised by B in the flesh as they were dancing along to her song, "Move Your Body/Get Me Bodied" yesterday.
The girls were totally into their workout/line dancing endeavor that even when Beyoncé appears (around the 1:30 mark) they don't let the surprise ruin their focus! Amidst numerous delighted screams to see the celeb, the girls and Beyoncé keep the beat and continue the dance.
Article continues below advertisement