NEWS
Watch 'Big Love' Finale Shocker!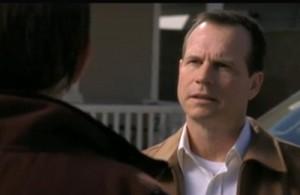 Everyone is talking about the Big Love series finale, which certainly went out with a bang! The hit HBO show said goodbye last night after five seasons with a shocking ending, exactly what finales are made for. **WARNING: SPOILERS AFTER THE JUMP!**
After a new church is successfully introduced to community, Bill Hendrickson (Bill Paxton) is shot and killed by a deranged neighbor.
Article continues below advertisement
His wives hear the shots from the kitchen and run outside to find Bill bleeding out from the gaping gunshot wounds on his chest. Barb (Jeanne Tripplehorn), Nicki (Cholë Sevigny) and Margene (Ginnifer Goodwin) seem to almost float over Bill as he begs Barb for a blessing.
As they try to move past his death, the women seem to find a sense of female empowerment. Margene considers a long trip to South Africa, and Nicki clings to the roots of tradition.
The return of Sarah (Amanda Seyfried) brings forth a celebration of life as her baby is christened in Bill's church.
"It breaks my heart that Bill can't see this," Margene says, as a flashback of Bill, watching from his usual place at the kitchen table, is featured.
Watch Bill's tragic death, via TV Squad, in the clip below. What did you think of the finale? Share your thoughts in the comments.