NEWS
Watch Billy Ray Cyrus & Hoda Kotb Bomb Earth Day Quiz on 'Today'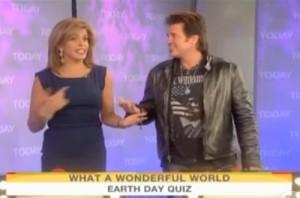 Hoda Kotb and Kathie Lee Gifford turned their Today segment into a game show today! Hoda competed with guest Billy Ray Cyrus on an Earth Day quiz segment, and the results were pretty embarrassing.
Both participants didn't seem to know the answers to any questions.
Billy Ray was hesitant to use his buzzer, randomly shouting answers.
Article continues below advertisement
When he was asked which item — drier lint, moldy bread, tea bags, or Cheez Whiz — shouldn't make your compost pile, he replied with a shout "tea bread."
It almost was like watching a parody! Catch the clip, via TV squad, below.