NEWS
Watch Brian Bradley, 14, Excite 'X Factor' Judges With His Rap "Stop Looking at My Mom"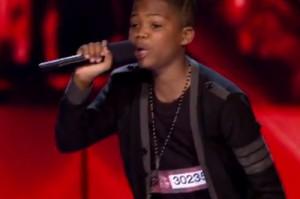 The X Factor welcomes contestants of all ages, and the young hopefuls have certainly impressed. Thursday night, Brian Bradley was no different. The confident 14-year-old from Brooklyn, N.Y., boldly said he wanted to be bigger than Jay-Z and Kanye West. And judge L.A. Reid basically said he would be!
Brian commanded the judges' full attention with his original rap — "Stop Looking at My Mom."
Article continues below advertisement
And he busted out some serious rhymes — "That's my mother. That's my mother. She looks so young he thought I was her brother."
And he easily swept the judges panel with a resounding "Yes".
"I used to run this label called Def Jam and all those years I was there I was looking for you," L.A. gushed, adding "So I'm the luckiest guy in the world that you walked in here today."
Simon Cowell echoed a similar sentiment.
"You are one of the most talented young people I've heard in a long long time," he said. "This is why I'm in New Jersey... I think you are fantastic."
Paula Abdul added, "You are very unique and you operate in that place that is fantastic."
Catch the clip below! Was Brian one of your favorites?