NEWS
Watch Britney Spears Endure "Poo Cocktail Supreme" Courtesy of 'Jackass' Boys!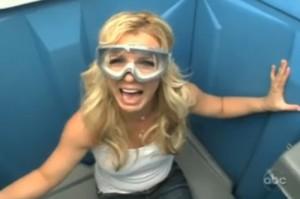 Britney Spears is popping up all over the place promoting her new album Femme Fatale. So it's no surprise that on Jimmy Kimmel Live last night the singer teamed up with fellow guest Johnny Knoxville and shared footage of her collaboration with the Jackass 3D gang, who put the 29-year-old pop star in a pretty crappy situation.
Brit is not afraid of "poo-poo," but the "Poo Cocktail Supreme" is a whole new ball game.
Article continues below advertisement
OK! GALLERY: BRITNEY SPEARS SHIMMIES & SHAKES FOR JIMMY KIMMEL LIVE
The Jackass boys tried out one of their favorite stunts on the singer, locking her up in a porta-potty secured between bungee ropes.
The portable toilet is then launched up into the air, bouncing up and down, as human waste splatters all over the inside and on Brit Brit!
Brit screams the whole time, meaning her mouth is open, which is even more unpleasant.
"Just did my first @jackassworld stunt with Knoxville and company. Knoxville better watch his back... -Britney" Brit Tweeted.
Catch the clip below!